Our Complete Tire Repair and Replacement Services Include:
---
Complete Visual Inspection
Plug and Patch Repair (DOT Approved Service)
Tire Rotations Upon Request
Check for Out-of-Balance Conditions
Balance Tires
Road Hazard Warranties Available
Major Brand Tires Available
Torque Lug Nuts (or Bolts) to OEM Specs
24 Month / 24,000 Mile Warranty on All Parts and Labor
FREE 33-point Inspection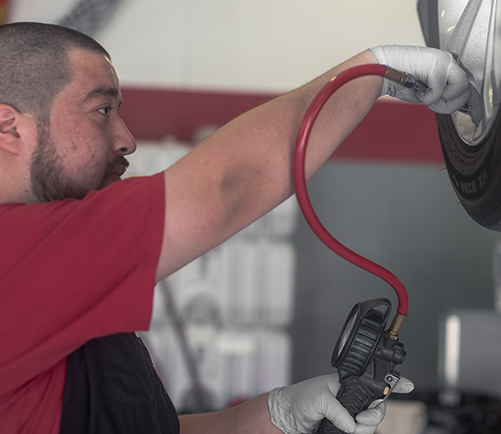 Flat Tire Repair, New Tire Installation & More!
---
If you suspect something is wrong with your tires, don't hesitate to come into one of our shops. If your low tire pressure system is on or if you recently hit a bad pothole, bring your vehicle in so one of our experts can check it out. If you keep riding on a damaged tire, you not only risk blowing that tire out, but it can lead to additional and costlier damage down the road. In other words, don't wait! Have your tires inspected by an ASE certified technician at the first sign of trouble!
---
Everything you need to know about your vehicle's tires starts with Auto-Lab® Contact us today to schedule service!