Our On Board Computer Diagnostic (OBD) Service and Module Repairs Include:
---
Complete Ignition System Diagnostics
Engine Code Check
Engine Oil Light Diagnosis
Engine Overheating Diagnosis
No Start Diagnosis
Charging System Diagnosis
Computer Re-flash
Replace Electronic Computers
Replace Control Modules
On Board Diagnostics (OBD) System Repairs
24 Month / 24,000 Mile Warranty on All Parts & Labor
FREE 33-point Inspections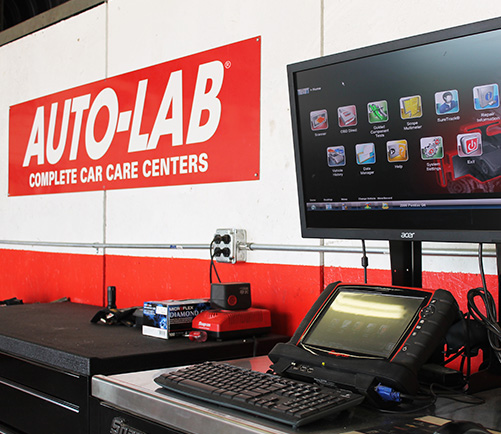 Guaranteed 33-Point Inspection
---
As a valued customer of Auto-Lab®, we provide a comprehensive 33-point inspection following our diagnostics at no additional cost to you. When you leave our service center, we want you to feel confident our technicians have provided a thorough inspection of the parts your car or truck depend on most. Your safety and satisfaction are our first priority!
Our Inspections Include Examining:
Noises
Shimmy
Alignment
Wipers
Horn
Blower
Power Options
Tail Lamps
Fuel Filter
Turn Signals
Side Markers
Headlamps
Warning Lights
Fluid Levels
Air Filter/PVC
Emission System
Plug Wires
Ignition Parts
Timing Belt
Belts and Belt Tensioner
Hoses
Radiator/Coolant
Hood Struts
Torque Bars
Steering Parts
Suspension
Shocks and Struts
Exhaust System
Tires
Visually Inspect Brake Parts
Fluid Leaks
Mounts
CV Boots
---
Everything you need to know about your vehicle's computer system starts with Auto-Lab® Contact us today to schedule service!