1. Why Franchise with Auto-Lab?
Why Choose Auto-Lab?
No auto experience necessary
Strong consumer demand
Minimal competition
Recession resistant
Harness The Power of Our Brand®
Our business model makes the dollar investment in an Auto-Lab franchise less expensive than most other automotive repair franchise systems.
Our sole focus on diagnosis and repair services makes Auto-Lab a less expensive alternative for our end retail customer than both automotive dealerships and most other independent repair shops.
To become part of a business culture and commitment to integrity, honesty, fair pricing, and community involvement.
To gain access to brand name and franchise system that has been established for over a quarter century
To gain access to a robust training program.
To gain access to a proprietary business management system (ALBMS®) that integrates the point of sale quoting and invoicing process, the inventory management process, and the back-end accounting function.
To gain access to pre-negotiated parts and equipment vendor programs.
To gain access to our 12 month / 12,000 mile warranty program.
To derive the benefit of our on-going franchisee support services.
Why Choose Franchising?
To become your own boss.
To own your own small business and build personal net worth.
To minimize many of the small business start-up risks that exist by partnering with a franchise system with an established business model.
To establish an attractive and reasonable transition of ownership or retirement in the future by being part of a business system and brand name that is more desirable to potential buyers.
Why Choose The Automotive Repair Industry?
It is an extremely large and recession resistant industry.
The service cannot be outsourced or off-shored.
The average age of the automobile in the U.S. is over 10 years and growing, which means more and more cars are not covered under warranty and in need of reasonably priced repair services.
The hours of operation are reasonable.
You do not need to be a mechanic or have an automotive oriented background.
The Auto-Lab Mission Statement
To develop a nationally recognized franchise system focused on providing superior automotive diagnostic and repair services. This system will be built through partnerships with successful franchise owners who are committed to providing exceptional customer service at a competitive price.
The Auto-Lab Value Proposition
To Our Prospective Franchisees:
Auto-Lab can help you build personal wealth through ownership of your own business. We will provide you a brand name, a proven business model template, and hands-on training that minimizes many of the common risk factors associated with opening a new business from scratch. Examples of the operational support provided include marketing and advertising programs, pre-negotiated vendor relationships, site assessment and facility layout, and a sophisticated proprietary business management system. An Auto-Lab franchise is preferable to
other automotive service options in the market because we as Franchisor are focused solely on providing automotive diagnosis and repair. Our focus is not diluted by also being a landlord, a parts supplier, or a car sales organization. As such, your success and our success are completely aligned and we will be with you every step of the way to ensure the business thrives. Our store hours of operation are attractive and the industry is largely recession proof. If these characteristics are attractive to you, we invite you to visit any of our stores and meet with the many successful business owners that make up our franchise family.
To Our Retail Customers:
At Auto-Lab Complete Car Care Centers, "We Test….Not Guess". We use advanced diagnostic tools and certified technicians to provide you with accurate and complete car care. We can do anything a dealer can do, but at a lower price. We service all makes and models and use only quality parts. We are so confident in our work that we provide you with a 12,000 mile / 12 month warranty on all parts and labor. At Auto-Lab we recognize that automotive repair can be an inconvenience in your busy life. As such, we strive to provide all customers with complete and correct repairs in a timely manner, at a fair price, and in a friendly, clean, and ecologically responsible environment. Don't take our word for it, come in and try Auto-Lab and experience quality car care for yourself
2. Investment
An investment in Auto-Lab can vary greatly depending on the size and location of your site, whether you purchase new or used equipment, or whether you convert an existing location or start the site from scratch. Assuming you choose to rent the facility instead of own the real estate, you can expect the investment in an Auto-Lab location to fall within the following range:
| | Low | High |
| --- | --- | --- |
| Franchise Fee | $13,750* | $27,500 |
| Equipment | $80,000 | $119,000 |
| Inventory | $5,000 | $15,000 |
| Leasehold Improvements & Real Estate Cost | $5,500 | $64,000 |
| Training | $2,000 | $5,000 |
| Pre-Opening Expenses | $15,000 | $33,000 |
| Working Capital | $10,000 | $50,000 |
| Total Estimated Cost: | $130,750 | $313,500 |
* Transfer of current Franchise
A general description of this initial investment is as follows:
Franchise Fee - Compensates Auto-Lab for certain start-up and legal costs related to the licensing of their trademarks and brand, and initial training, materials, and administrative services.
Equipment - Includes all diagnostic and repair equipment as well as the computer hardware and software necessary to operate the business.
Inventory – An adequate amount of inventory on hand to operate the business.
Leasehold Improvements and Real Estate Costs – Site fit-up, renovation, signage, and prepaid rent and security deposits.
Training – All travel and lodging related to initial training.
Pre-Opening Expenses – Certain licensing, permit and insurance costs, and marketing and grand opening costs associated with the initial opening of the business.
Working Capital - Funds allocated for various other start-up expenses and an initial deficit reserve for the first three months of operation.
"Our business model makes the dollar investment in an Auto-Lab franchise less expensive than most other automotive repair franchise systems."
What Auto-Lab Requires of its Franchisees
A basic knowledge of business management fundamentals.
A strong work ethic and commitment to honesty and integrity.
Personal liquidity of at least $250,000.
No technical experience necessary.
3. Process
The Process of Being Awarded an Auto-Lab Franchise
Have introductory call with one of our Franchise Development representatives.
Fill out a Personal Profile and Credit Application.
Assuming these meet Auto-Lab's basic requirement levels, you will be issued a Franchise Disclosure Document ("FDD") along with some business fundamental reference materials. You will be asked to sign a receipt of this FDD to move to the next step.
An Auto-Lab representative will walk you through the FDD to better educate you on the process, requirements, and risks of becoming an Auto-Lab franchisee. This part of the process may take place over a number of different phone conversations or meetings.
If mutual interest still exists at this point, we will schedule a meeting with Auto-Lab management to hold an in person "Discovery Day" at our headquarters in Auburn Hills, MI.
It is upon completion of Discovery Day, that Auto-Lab makes the decision to award the franchise to you.
Upon awarding of the franchise, a closing date will be scheduled to execute the franchise agreement and any related legal documentation.
Area Developer Opportunities
Auto-Lab also offers qualified candidates the opportunity to develop a geographic territory for Auto-Lab. This arrangement typically consists of owning and operating one or more pilot stores in a given territory, and then soliciting prospective franchisees to complete the minimum development of that geography over a specified period of time. Typically these territories range in size from as small as a specific county to as large as a specific state. Area Developers require a greater level of financial resources and a deeper array of professional management skills. Area Developers will be provided additional training from Auto-Lab in how to solicit prospective franchisees and to how to provide ongoing support to those franchisees that they help develop in the territory.
"There are two things that I look for in new business opportunities. The first is a good concept. But more importantly, I look for strong leaders. With AutoLab I have found both. With the advancing technology of cars and trucks, Auto-Lab's specific focus on diagnostics is a point of clear distinction in the auto repair industry. We are excited to bring this concept to Texas."
Michael Humphrey – Area Developer - Communitas Auto Group - Auto-Lab Texas
"Area Developers will be provided additional training from Auto-Lab in how to solicit prospective franchisees and to how to provide ongoing support to those franchisees that they help develop in the territory."
4. Conversion Program
As a successful owner-operator, your success is based largely on customer trust earned over the time. Branded names help enhance the trust factor.
A critical ingredient to our franchisee's success is customer satisfaction. This is achieved through our owner-operator dedication combined with Auto-Lab's business model and franchise support. Running your own business can be very rewarding, but it is also very challenging. The Auto-Lab system can help make your business more profitable and easier to manage. You are never alone! As a franchisee, you will have the Auto-Lab's expert staff at your disposal, fully aligned with the goal of making your business as successful as possible. You will also have access to other Auto-Lab franchise owners who have extensive automotive service business experience.
At Auto-Lab we have built an excellent reputation that we nurture with a passion. When the time comes to sell your business, the Auto-Lab brand will assist you in bringing a greater number of prospective buyers to the table and enhance the ultimate value of your business.
To learn more about what you'll receive by converting to an Auto-Lab facility please fill out the form to download our Franchise Kit. After the form is filled out Auto-Lab Franchising will be in contact with you to discuss, and assist you with opportunities we have available.
5. Our History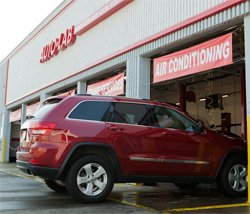 Founded in 1989, Auto-Lab began as a single store auto repair facility located in Sturgis, MI. The company quickly grew to five independent facilities focusing on tune-up and diagnostic services. Due to the success and growth of these sites, the company made the strategic decision to begin offering franchise opportunities in 1992. Since that time, the Auto-Lab franchise system has grown to upwards of 30 locations located in Michigan, Indiana, Iowa, Florida, and Texas.
As the industry continued to evolve, the company changed its name from "Auto-Lab Diagnostic and Tune-Up Centers" to "Auto-Lab Complete Car Care Centers". The name change captures our razor focus on complete car repair, while still maintaining a specialty in the most technologically advanced diagnostic services.
Auto-Lab Complete Car Care Centers has been a part of local communities for 27 years and continues to provide franchisees a business model that contributes to positive community outreach. The company holds an A+ BBB rating, and stresses the importance of exceeding customer satisfaction in each location.
6. Frequently Asked Questions
Why Auto-Lab versus another auto repair franchise?
Auto-Lab offers an immense amount of franchise support from our corporate office as well as a highly respected brand image. We require less investment, a small franchise fee and more control of marketing and advertising associated with your target customer base. The Auto-Lab Business Management System (ALBMS®) is a computer program unique to Auto-Lab that will assist you in all areas of managing a successful Auto-Lab Complete Car Care Center.
I already own an auto repair shop, can I make it an Auto-Lab Complete Car Care Center?
Yes, you can convert your current auto repair shop to an Auto-Lab Complete Car Care Center. In fact, we have an Auto-Lab conversion program in place. Contact our sales consultant for more information on our conversion program.
Do I have to be a service technician to own an Auto-Lab franchise?
No. A common misconception of our industry is that you have to be a service technician to own an auto repair center. While you will need to employee ASE Certified Technicians to work in your Auto-Lab Complete Car Care Center, any mechanical expertise that our franchises may have is often an added bonus. The most useful asset to an Auto-Lab franchisee is proven success in the management of a business. In fact, several of our most successful franchisees are not auto repair technicians; they range from chemical engineers to business executives, but have all found success by utilizing the Auto-Lab business model and brand.
Is financing available?
Third party financing is available and may be used for up to 80% of your start-up cost. Auto-Lab Franchising is an SBA approved franchise which helps you get approved for your loan faster.