Auto-Lab Complete Car Care Centers was established in 1989. Troy Auto-lab on 2790 W. Maple is located next to the Hollywood Market and is one of 21 Michigan locations. Certified Master Technician Mark Stull has worked for Auto-lab since 2002 and has owned the Troy store since 2010. He emphasizes that he and his mechanics have over 80 years of combined automotive experience.
It should be noted, Michigan auto repair shops and mechanics have guidelines to follow and must be licensed by the state.
"I don't hire kids. I only hire well experienced people. We are a dealership alternative and do all aspects of car repair and maintenance" says Stull. "We have a lot to offer."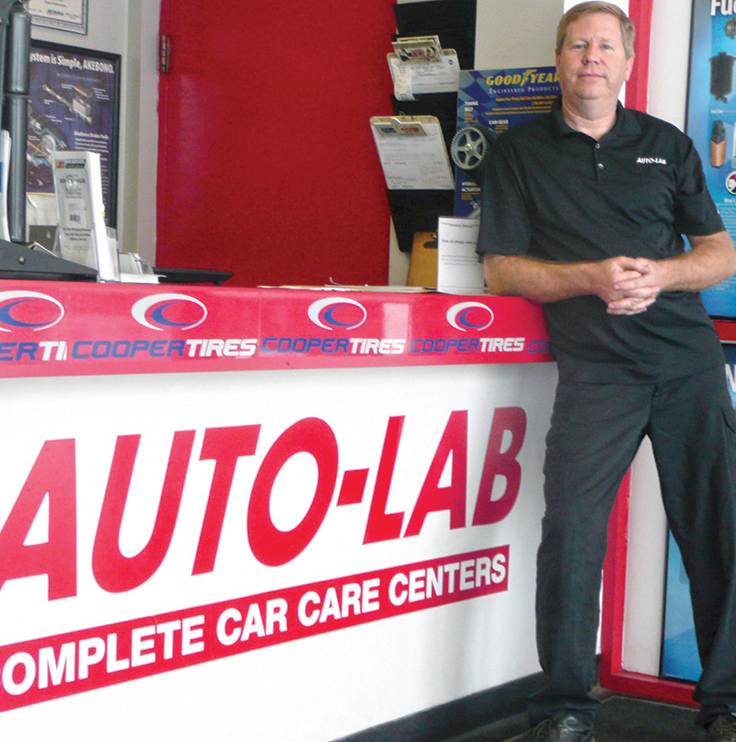 AT AUTO-LAB COMPLETE CAR CARE CENTER Owner Mark Stull (Above) knows customers tell their friends and keep coming back because of the great service and friendly atmosphere at the Troy location.
Auto-Lab also boasts advanced diagnostic equipment which is a significant aid with the computer technology found in many newer cars. This is an advantage to mechanics as well, because it efficiently pinpoints problem areas.
Stull says the worst thing you can do to your car is put off having problems taken care of until they become bigger problems.
"Don't put off repairs until it's too difficult or impossible to fix," he mentions. "Don't ignore that warning light until it becomes a very expensive problem. Your car is trying to tell you that something is wrong."
At Troy Auto-Lab, they are aware that competitive pricing is an important part of any repair.
"We actually monitor our competition to make sure our rates are inline," says Stull. "We also offer extended and lifetime warranties. "Because of our nationwide reach, we have multiple sources for parts," Stull continued. "We also have a local shuttle and a couple of loaner cars available for our customers to use for free."
And, even if you only get an oil change at Troy Auto-Lab, you are entitled to six months of roadside service at no charge (up to maximum $75).
To make sure every customer understands exactly the service their automobile needs, technicians at Troy Auto-Lab show the customer the problem area, when possible. Stull mentions they have even been known to photograph a repair situation when necessary.
Another value to note exclusively at Troy Auto-Lab is their nationwide warranty. If you have a problem anywhere in the United States with a repair made in Troy, you can call an 800 number and you will be directed to the nearest repair center in a 30,000 site network.
While Troy's Auto-Lab Car Care Center is a customer-oriented established local business, the muscle of the nationwide franchise behind them gives the operation added credibility.
Auto-Lab Complete Car Care Center is located at 2790 West Maple Rd. For more information, call 248-643-7690 or see their website
troyautolab.com
.