Auto-Lab Complete Car Care Centers proudly announces a partnership with local heroes through our affiliation with Emergency Ministries. This includes our "Give Back 5™ Community Partnership" as well as being the "Chief-Level" Sponsor of the their 5th Annual "Hope for Heroes Gala," which will be held on November 3, 2016 at The Woodlands Waterway Marriott.
Emergency Ministries, headquartered in Spring, Texas, is a leader in providing specialized chaplain services directly to our local first responders: firefighters, police officers, paramedics, EMTs and dispatchers. This includes on-scene and behind-scenes services with these everyday heroes to help them cope with the tragedies they deal with, as well as providing marital and family counseling.
Through our Give Back 5TM Partnership, Auto-Lab donates 5% of gross sales to the Emergency Chaplains – and here is how it works…
It's simple for friends of Emergency Ministries to get started in the Give Back 5 TM process. Just let our friendly Auto-Lab service writers (at any of our locations) know that you are a friend of EM and we will credit Emergency Ministries with 5% of your total ticket amount for any of our professional services… from oil changes to complete rebuilds. No coupons or vouchers – just the words: simple and effective.
Auto-Lab is also honored to be this year's Chief Sponsor of the 2016 Emergency Ministries Gala on November 3, 2016. They are going "outside the box" this year and by bringing in world-famous comedian and author David Naster as keynote for the evening. David is not only a 'clean' comedian, he has authored two books about using humor for therapy, with endorsements from the likes of the 'real' Dr. Patch Adams.
We are expecting a wonderful, fun evening of honoring our first responders for their service and the chaplains who serve them. We'd be grateful and honored to have you join us: by attending with your friends, or better yet, sponsoring a table or the Gala itself!
Please see the link below for more information. Hoping to see you there on November 3rd!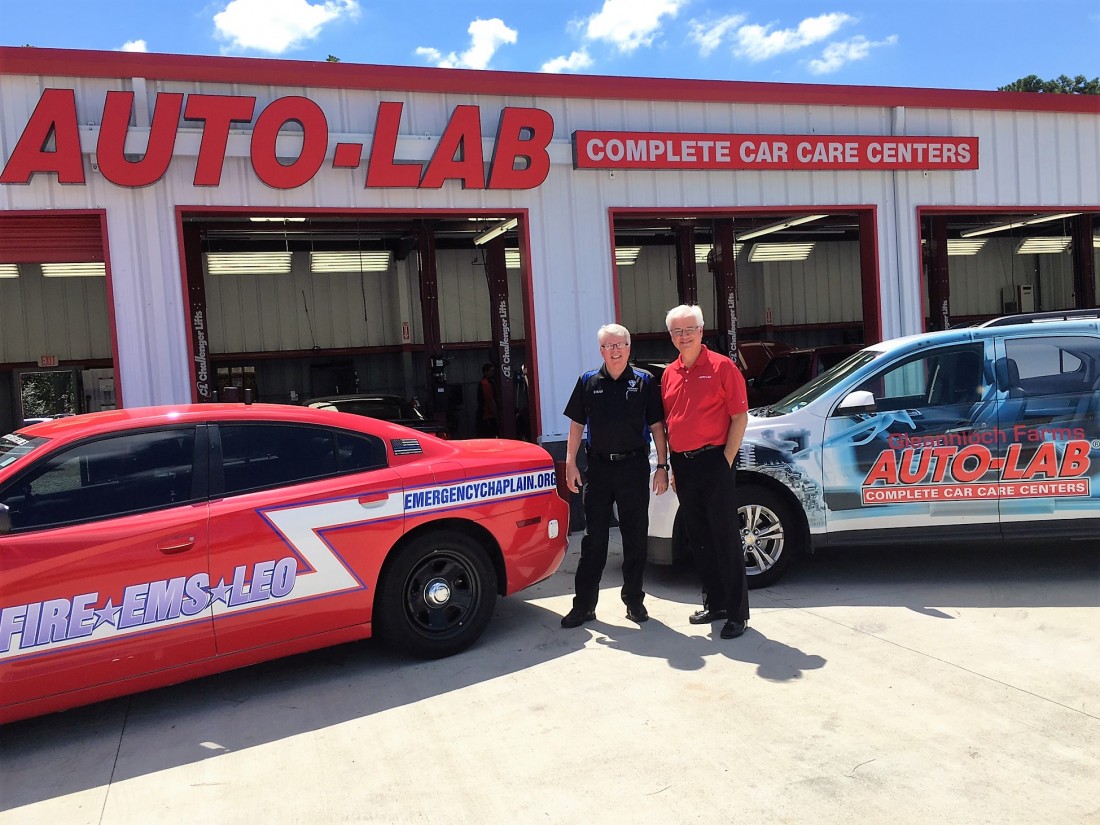 Emergency Ministries CEO Skip Straus (left) and Auto-Lab Owner Mike Humphrey (right) Celebrating the announcement of the Give Back 5 TM Partnership and first $500 donation.